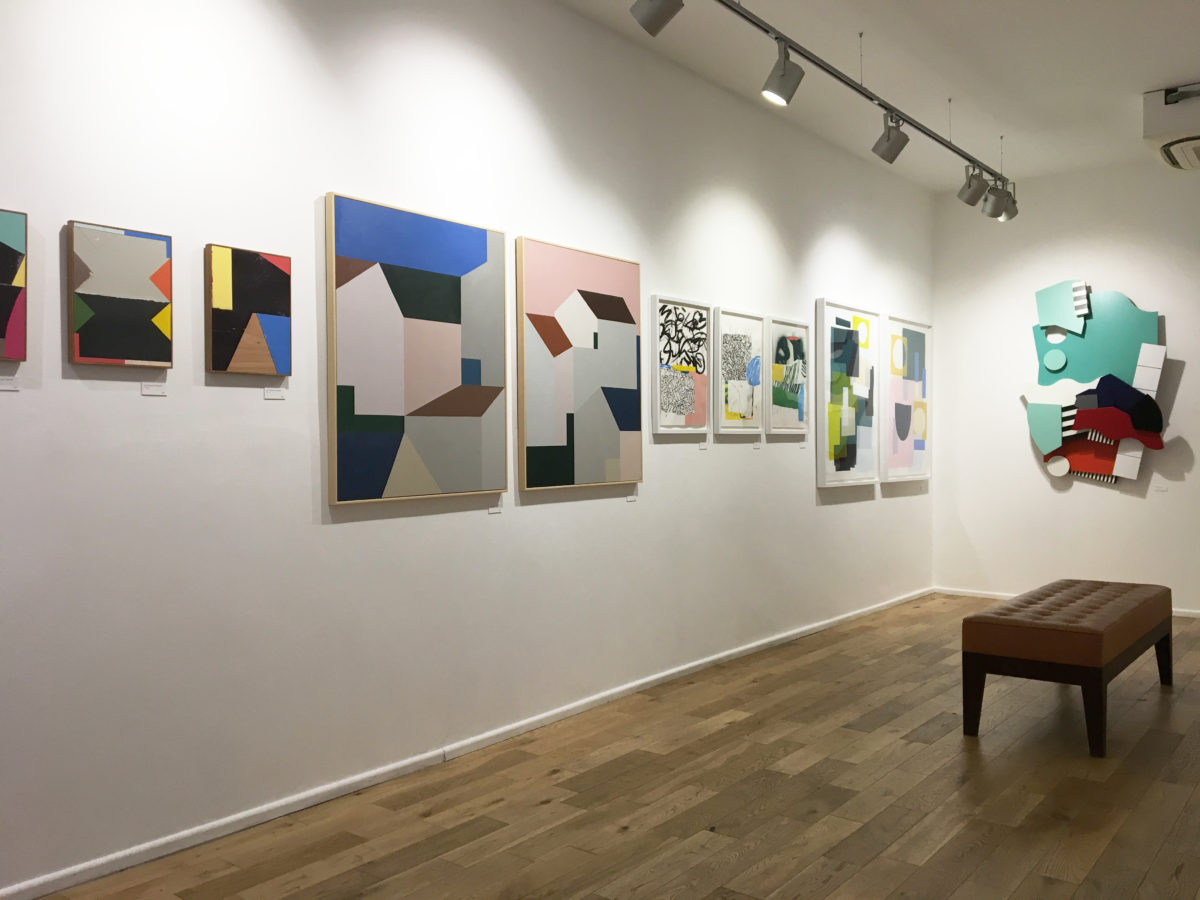 'Construct' with artists; Anna Mac, Jo Hummel, Jonathan Lawes, Luc Pierre and Mark McClure. Open February 2020
The exhibition explores the notion of 'Construct' in the abstract form. Construct applies to the conception of artwork, the technique and the physical 'building' and layering of collage or paint to create unique abstract art works.
Inspired by her surroundings in Suffolk, Anna Mac creates carefully composed paintings that hint to an architectural scene but may also be viewed as simple abstract shapes. Anna uses a technique of applying layer upon layer of paint in muted colour palletes to create compositions that are balanced and harmonious.
Using pattern and expressive mark making, Luc Pierre uses a range of materials; paint, collage, charcoal and spray-paint to build up his paintings in a very organic way. Overlaying layers to construct the pictorial space, Pierre's compositions subtly allude to the real World, hinting at nature and imagined landscapes.
Jonathan Lawes uses the medium of silk screen-printing to construct unique one off artworks created by building layers of geometric shapes in bright and bold colours. Although there is a distinct graphic, sharp edge to his work, Jonathans' compositions are often random with an organic twist thanks to the handmade techniques used in this process. The end result is a series of visually striking multi layered screen prints.
Mark McClure's geometric mosaics examine themes of structure and our interaction with the built environment. His 2D and 3D artworks are composed of wood, which are constructed together to create bold, dynamic, abstracted artworks. Built on the idea of a graphic landscape the compositions reflect architecture and the shapes they inhabit.
Jo Hummel's work combines collage, painting and installation. Her collages are charged with emotion and spontaneity, they balance order with chaos, adding a stroke of paint or juxtaposing geometric forms with softer muted hues.