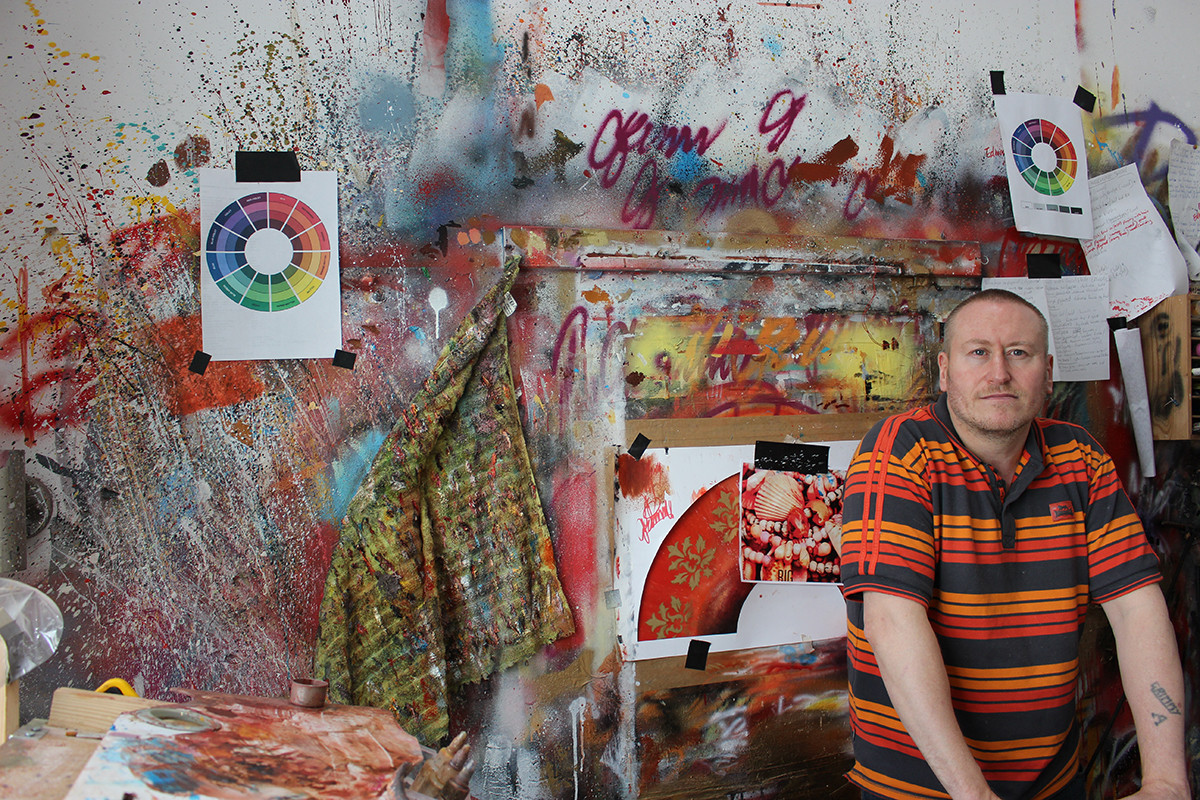 Interview with Dale Grimshaw at his studio on Friday 17th February.
Well Hung meet Dale Grimshaw in the run up to his solo exhibition in March 2107. Dale reveals his thoughts behind his new collection of work, his inspiration and what gets him out of bed in the morning.
Q. Your solo show Pride and Prejudice at Well Hung in March brings together the body of work you've developed over the last few years.  Can you explain a bit more about the inspiration behind the collection?
From a very young age (of 7), I was interested in Native American imagery, body modification and ceremonial or tribal costume. Initially I wasn't aware of the plight of West Papua but I was attracted to the strong and powerful images of tribe's people so I started to paint them. Throughout the past few years I have been painting tribal people, as they create strong, powerful and theatrical imagery.
Q. There is often a strong narrative/political theme to your paintings. What or who has inspired your work? 
 The visual attraction for tribal costume people progressed from a superficial one into a political message when I started to get involved with the plight to free West Papua from Indonesian occupation. I started to learn about the political regime, about who was who and then it all happened quite naturally.
 My first real political piece was a mural I painted in Camden, where I wrote 'Free West Papua'. At first, the campaigners didn't know about my work but after I painted the 'Free West Papua' mural they started to see the impact it had on people in Papua New Guinea. It meant a lot to those people. They were astounded there a was a big mural getting so much attention.
 I know the message is getting across as when I speak to people, they tell me they know about West Papua because of my work.
Q. What is the key message you want people to take away when they look at your current work?
My paintings are about life. Not necessarily just about indigenous people. They have to have an emotional, human side. These people have to hold their own as powerful, dynamic, figurative painting. When people look at my work, I want to smack people in the chops.
 I was contacted by someone in Manchester who stopped by one of my murals. He ended up late for an interview as he was drawn in to the image and wanted to know more about it. That's the response I wanted. I want to make people late for their interviews or their job. Haha
Q. How are you involved with the plight to free West Papua from Indonesian occupation?
Historically, you would be imprisoned and beaten if you flew the flag of West Papua. So every year there is an annual flag-raising event at Westminster Bridge. Everyone around the World who is sympathetic to the cause will fly the flag.
Recently I launched an international petition at the Houses of Parliament to stop the occupation of West Papua. I have also been working with Benny Wenda – The leader of the United Liberation Movement for West Papua (ULMWP). They are a grass roots movement, which is at its early stages so we are working together to try to raise their profile and get the message out there.

Q. Why did you name the show Pride & Prejudice?
 Pride because the people from Papua are proud people, they love their culture and their tribes.
Prejudice because of the West who will not help these people. And the prejudice of some who think they are cannibals or jungle savages.
Q. Does your work explore a wider message and other areas of conflict around the world?
My work explores the residue and aftermath of colonialism. The interference of the Western World and how the West fuels a lot of the problems in the world today. It's Capitalism and environmental destruction of the World.
Q. What are you working on right now?
I am working on several new pieces for my show at Well Hung. I will have between 12-15 new works on canvas or board and 5 new palettes.
I am also developing a screen print which I will hand finish, exclusively for the show.
Q. Could you describe the development process of your artwork?
There is no set way of how my paintings start. They start differently every time. There is a common theme in that I work fast to begin with. I often listen to Drum and Base and only slow down when it comes to the details. I can sometimes spend 3 hours just working on an eye.
Q. Has your style developed/evolved throughout the years?
 My style has progressed throughout the years as I've realised what works and what doesn't.
I've learnt a lot from my street paintings and what works for them is simplicity and to convey a strong yet powerful image. This translates well in my canvases as its important not to overthink or complicate my pieces.
Q. Are you planning on any street pieces?
I am going to create a new piece in East London very soon.
Q. Do you feel pressurised painting a wall?
Yes I do. It's not cool to admit I get stressed whilst doing my street art but there is a lot involved. It's a bit like being in a gig and balancing the adrenalin when you preform.
There are also a lot of other factors like the weather and being at a great height when you're painting outside.
I have a very Northern approach so when I start painting a wall – Don't give up or give a Fuck. No matter what the weather has in store. I have had people approach me telling me I mad to continue to work in those conditions but I just want to get it done.
Q. How long have you been painting walls?
I have been painting walls for around 3- 4 years. Before that I used to do large lino cuts on sheets and paste them up. I was ahead of my time 😉
Q. What is a typical day look like for you?
Breakfast at 7.30am with my cat 'Honey' and then I go to the gym. It's important for me to workout before the day as I spend a lot of time on my own. I am self-motivated and sometimes look at other good paintings to inspire and help focus me.
I work in my studio from 10.30am – 7.30pm and I try to not to work on weekends unless I am preparing for a show.
Q. What are your ambitions for the year ahead?
Apart from World domination, I have a busy year planned. I will be painting murals in Italy, Germany and Sweden. I also want to keep the momentum up of my studio work.