Dream Bigger Better Weirder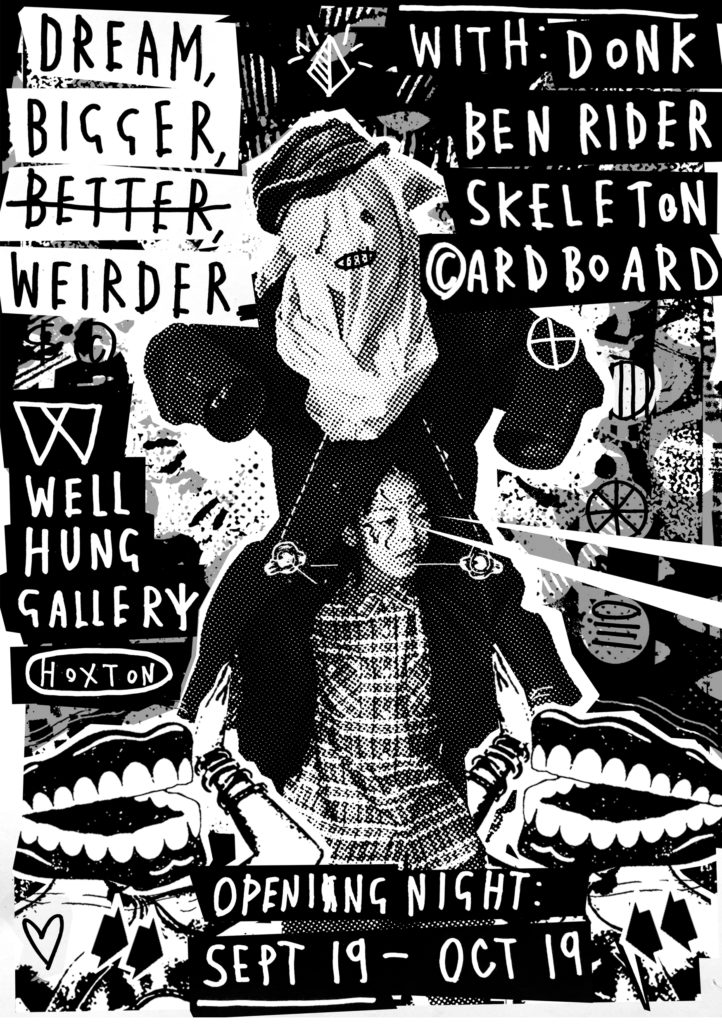 Well Hung are delighted to announce a group exhibition with three of London's most exciting and prolific street artists; Ben Rider, Donk and Skeleton Cardboard.
These artists are no strangers to the street art scene and have been leaving their provocative imagery around London for many years. Their friendship and desire to create ground breaking street art has lead to this powerful collaboration. The specially curated show combines elements of pop art, graffiti and photography, which is dynamic, energetic and pushes boundaries challenging us to 'Dream Bigger, Better, Weirder'.
Armed with wheat paste, spray cans and paint brushes, Ben Rider, Donk and Skeleton Cardboard will be adorning our gallery walls with their colourful trademark imagery, stencils and typography to create a visually striking installation. The artist's original artwork will sit alongside the installation uniting all the collection together.Exclusive to the exhibition we will be launching a joint, special edition screen print. This will be a small edition, all uniquely hand finished.
Join us on Thursday 19th September for the private view from 6pm until 9pm. RSVP to info@wellhung.co.uk. We will be giving away a goodie bag of art and stickers for the first 20 people through the doors so get here earlier to avoid disappointment. The exhibition runs until 19th October.