Just Saying
Screen print on birch ply
Signed Limited edition of 10
Anti consumerism and pro planet Street Artist Benjamin Irritant adopts humorous slogans and imagery to make powerful provocative statements.
His work always starts out as a hand cut collage from old books and magazines which he blows up to a large scale and pastes up on the street to make an impact.
For this exhibition, Benjamin Irritant created a special edition screen print done in his ubiquitous style on 3mm birch making this a very special find.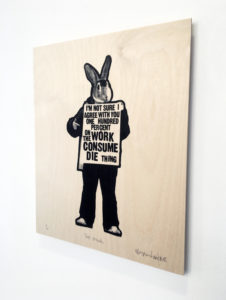 Only 8 left in stock
There is no available work for sale by this artist