Where Shadows Chase Light – Framed
Hand finished polaroid collage
Signed Limited edition of 5
34 x 45cm
This is a Polaroid collage each with individually hand-applied 24k gold leaf to create a unique aesthetic, with no two the same.
Framed in a black box frame with anti-reflective glass as shown in the example below.
Available unframed for £675. Please use coupon code UNFRAMED when checking out to receive discount.
** Delivery will be made after the exhibition closes on the 30th March 2018. discount only applicable to this product. **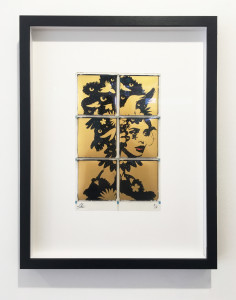 Only 1 left in stock