Exhibition
We are delighted to announce 'Still Waters Run Deep', Dale Grimshaw's second solo exhibition at Well Hung Gallery. The show features a new series of stripped back portraits, which depict threatened indigenous communities, particularly those from Papua New Guinea.
For the past 5 years, Dale Grimshaw has been exploring the relationship between tribal people and the increasingly callous profit led world of globalisation. Dale has done this by juxtaposing powerful portraits with symbolic contemporary imagery, contrasting the old with new worlds.
The new body of works in 'Still Waters Run Deep' focus on the simplicity of the individuals, their purity of expression, strength and beauty, concentrating on the intricate detail and reveling in the expressive possibilities of painting in oils. Most of the works find the strong faces framed by abstract brush strokes, implying movement, from which they emerge in magical stillness. The colour palette is simpler now and there is a sense that the artist has become completely at one with his subject matter. These are works of beauty and maturity achieved as a result of total immersion and empathy for his subjects.
Dale has had many solo shows in London and recently one in Stockholm. His work has been shown all over Europe and in the USA. He is also one the UKs most acclaimed street artists, constantly in demand to paint murals across the globe.
Please join us on Thursday 11th April for a private view from 6-9pm. Music and refreshments will be provided, the event is open to all but please do email info@wellhung.co.uk to confirm attendance. Admission is, as always, free.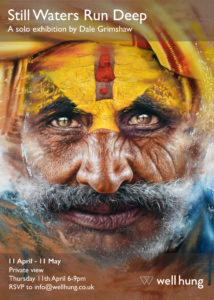 Read Story
Bio
Isaac Cordal is a Spanish artist currently living in Brussels. Cordal uses miniature sculptures called Cement Eclipses amongst urban streets to criticise modern society. His themes comment on politics, bureaucracy, human misery, climate change and power. Cement Eclipses is a critical definition of our behavior as a social mass. With the master touch of a stage director, the figures are placed in locations that quickly open doors to other worlds. The scenes zoom in the routine tasks of the contemporary living. "With the simple act of miniaturization and thoughtful placement, Isaac Cordal magically expands the imagination of pedestrians finding his sculptures on the street." – Steven P. Harrington, Brooklyn Street Art.
Read story
Over the past few years we've had the privilege of framing some beautiful artworks for our customers. We consult with each customer directly and help select the best framing and mounting options for their artwork. We often suggest a presentation that compliments the art to show it in it's…
Read story
During the festive period we are more conscious than ever about helping others so we wanted to do our bit. From 23rd December - 2nd January we will donate 50% of the value of any online art purchase to the charity of your choosing* Simply make a note on…
Read story
In December 2018, we celebrated our 5th year anniversary and to mark the occasion we had a huge party and exhibition - showcasing affordable art from most of the artists we've worked with over the years. We've also introduced a few new artists to the gallery, which we hope…