Well Hung
Shoreditch Art Gallery
Drop into Hoxton Street to see us, established in 2013, Well Hung are one of the most popular east London art galleries.
Well Hung is an art gallery and framing workshop based in the creative hub of the East End of London. Our shoreditch art gallery focuses on contemporary urban Street Art and our extensive in-house workshop hones in on bespoke picture framing and Fine-Art printing.
Our passionate and friendly team have decades of experience in the print, frame and fine-art industries and are known for producing work of the highest quality.
Please feel free to pop in to our east London gallery for a chat or give us a call on 020 7033 2777 and we'll happily assist in any way possible.
Current Exhibition

We are proud to announce our group Street Art exhibition 'Outside In' with artists; Ben Rider, David Shillinglaw, Donk, Hannah Adamaszek, Hello the Mushroom, Manyoly, Mobstr, Mr Cenz, My Dog Sighs, Neon Savage, Otto Schade, Rolf Carl Werner, Shuby, Skeleton Cardboard, SubDude, Sweet Toof & Zabou.
These artists have been decorating the streets of London with a staggering array of creative works, from satirical and political imagery to colourful spray painted murals. One thing they have in common is their commitment to sharing their compelling imagery with the city's inhabitants.
'Outside In' brings together an eclectic mix of London's best Street Artists working today and showcases their work in a traditional gallery format. Bringing these unique, hidden gems to the walls of Well Hung Gallery for all Street Art lovers to enjoy, under one roof.
Exclusive to the exhibition the artists will also be covering our gallery window – inside and out with their work so this will be one installation not to miss.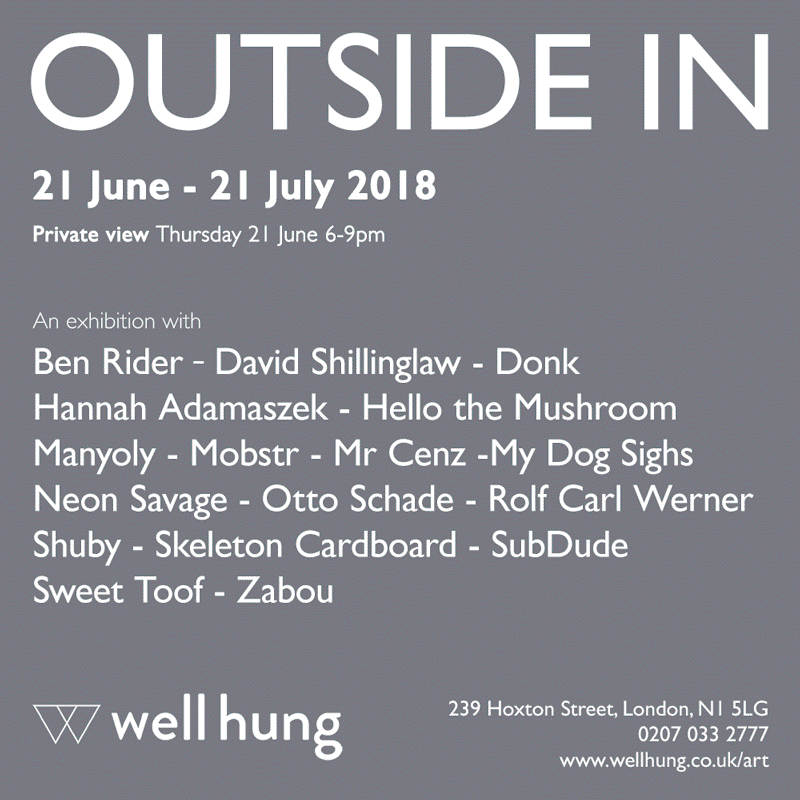 Read story
Over the past few years we've had the privilege of framing some beautiful artworks for our customers. We consult with each customer directly and help select the best framing and mounting options for their artwork. We often suggest a presentation that compliments the art to show it in it's…
Read story
We are happy to announce that we are exhibiting at The Stroke Art Fair Wednesday 9th -  Sunday 13th June. This is our first overseas event and we're super excited to be sharing our stunning collection of artworks with the good folk of Munich. We are showcasing new original…
Read story
Well Hung are delighted to introduce 'Just Human' a group figurative exhibition with artists; Ant Carver, Bael, Ben Slow, Eric Haacht, Jim McElvaney and Joseph Loughborough. Celebrating the human form, Well Hung has specially curated this exhibition to showcase a selection of talented British artists who capture the human…